Amica
This new high-end professional floor scrubber is made with high engineering standards and the best materials.
• Automatic start and stopping system of the brushes
• Water flow control
• Automatic filling
• Built-in mixing system that, by dosing water/detergent in a proportional way on the machine's feed speed, allows remarkable reductions both in costs and environmental impact.
• Drive train with direct differential motor and silent vacuum motor.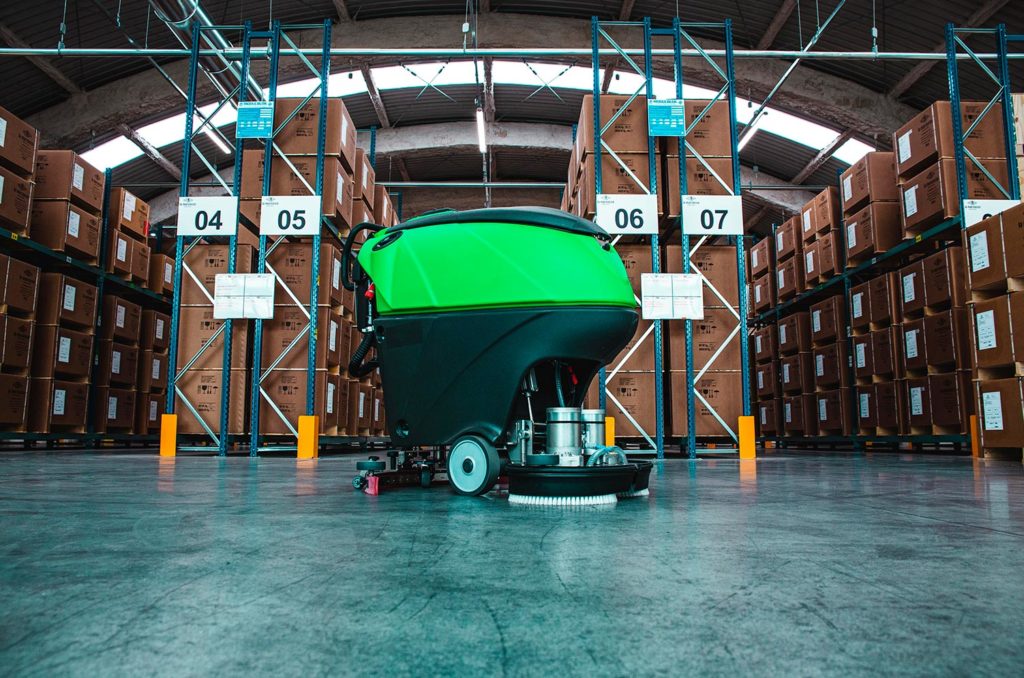 Automatic mechanism for lifting and lowering the brushing unit; no-maintenance direct beltless gearmotor; the only floor scrubber-dryer in compliance with HACCP hygiene regulations; completely accessible tank; the fresh water discharge pipe has its level indicator; the suction filter is easily accessible; the float of the automatic filling system stops the water without having to turn off the tap; stainless steel parabolic squeegee; the dirty water discharge pipe is flexible to adjust the discharge flow.
| Model | Supply | Yield | Cleaning Track | Squeegee width | Brush diameter | Speed ​​Brush | Brush plate pressure | Brush Motor Power | Suction Motor Power | Traction | Tank capacity clean / dirty | Acoustic level |
| --- | --- | --- | --- | --- | --- | --- | --- | --- | --- | --- | --- | --- |
| 50M | 24 V Dc | 2000 m2/h | 50 cm | 76 cm | 1×480 mm | 140 rpm | 32 Kg | 600 W | 400 W | Meccanica | 50/55 lt | 66 Db |
| 55M | 24 V Dc | 2200 m2/h | 55 cm | 76 cm | 1×530 mm | 140 rpm | 33 Kg | 600 W | 480 W | Meccanica | 50/55 lt | 66 Db |
| 50BTR | 24 V Dc | 2500 m2/h | 50 cm | 76 cm | 1×480 mm | 140 rpm | 32 Kg | 600 W | 400 W | 200 W | 50/55 lt | 66 Db |
| 55BTR | 24 V Dc | 2750 m2/h | 55 cm | 76 cm | 1×530 mm | 140 rpm | 33 Kg | 600 W | 480 W | 200 W | 50/55 lt | 66 Db |
| 56BTR | 24 V Dc | 2800 m2/h | 56 cm | 76 cm | 2×280 mm | 140 rpm | 37 Kg | 2×300 W | 400 W | 200 W | 50/55 lt | 66 Db |
| 66BTR | 24 V Dc | 3300 m2/h | 66 cm | 76 cm | 2×330 mm | 140 rpm | 38 Kg | 2×400 W | 480 W | 200 W | 50/55 lt | 66 Db |