4 Clean Pro – Industrial cleaning
4CleanPro srl was founded in 2010 by a group of people with twenty years of experience in the professional cleaning industry. Thanks to our experience, we realized that today's professional market's demand is very different compared to the past, and – most important – that only few companies are able to keep up with this evolution and with the development of those cleaning techniques that today are essential in this field.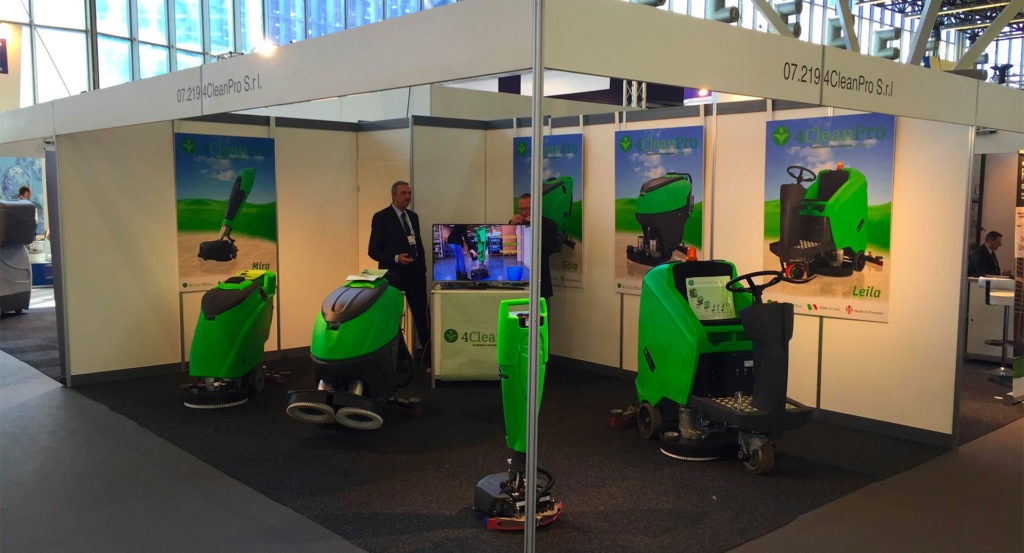 Our products owe their value especially to the way they are built and to the quality of their components.

Steel is the main material, and the stainless steel frames and structures used to build all our products are an added value, especially in some locations like food factories, swimming pools, dairies, hospitals and factories in general.
Why 4CleanPro?
Professionalism and direct support to all our customers for both technical and commercial inquiries.

Know-how and prompt responses to all your inquiries.

Safe, fast shipping service thanks to our agreements with the best express shipping companies.

Online personal area to consult all the necessary documents.

Maintenance and original replacement components for your products.

Wide range of application.
2010 Company constitution and launch of "Amica"
4CleanPro opens its doors and creates its first industrial floor scrubber – a walk-behind machine provided with all the features needed to meet market requirements. A machine with front and rear wheel drive, and an oil-bath differential motor. Electric mechanism for lifting the brush disc, automatic filling, proportional water dosing system with automatic mixing of detergent.
2012 OMCF arrival in the company and launch of "Gaia"
We renovate our company structure with the arrival of the firm OMCF as majority partner, which enables us to create our second model: A classic floor scrubber without traction, able to clean 2.200 square meters per hour thanks to its capacity of 40 litres.
2013 Launch of "Leila"
The production of Leila begins – it's a ride-on floor scrubber with a capacity of 100 litres, available in three working widths and including a brushing-cleaning unit with a working width of 65 cm.
2015 Launch of "Mira"
Mira, our flagship model: A small, smart, extremely agile and flexible machine that for all purposes can replace the classic cleaning mop.
2020 Progress and evolution
We are always looking for perfection and our goal is to improve our products in order to keep improving our services.
More informations?
Are you undecided about the product or do you want to get more details?
Our company's strengths
Floor scrubber-dryers that meet the needs of the professional cleaning industry.
Complete accessibility to the dirty water tank for a better cleaning.
Possibility of changing the working width in five minutes by replacing only the brush disc.
Proportional and automatic detergent dosing system.
Low noise level
Autonomy
User-friendliness
High performances
We only work with providers that meet ISO requirements in order to ensure the quality of our product.